But in your hearts set apart Christ as Lord. Always be prepared to give an answer to everyone who asks you to give the rea

son for the hope that you have. But do this with gentleness and respect ...
One lingering - or at least,
I
think it's lingering - outcome of my 1998 stroke is that I'm not quite as quick on my feet in speaking as before. So whenever I get a question about faith in person, it seems that I always stumble.
The other day, I found this verse and it makes sense, as the Bible tends to do: Prepare an answer. If someone asks why, give your prepared answer. Unless you're a highly educated theologian, don't even try to answer every detailed question. Think simple and straightforward. Or at least, that's my personal plan.
Any suggested answers for the why-do-you-believe question?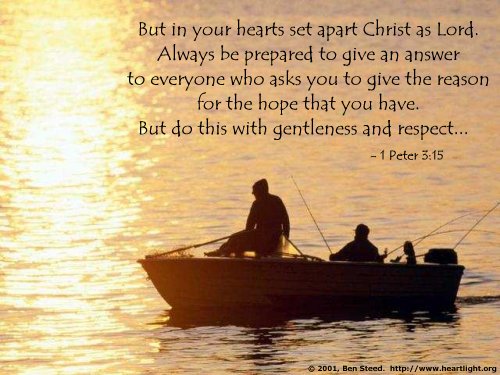 (Image from www.heartlight.org)