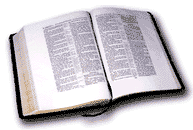 I have set the LORD always before me.




Because he is at my right hand,




I will not be shaken.



A comforting word to remember - for stroke survivors, caregivers, loved ones, friends and colleagues alike.
A key term here: "always before me." The author had the right idea - placing God always in front, always in high priority.
I know some stroke survivors are physically shaken. But spiritually, I've seen some of the same people solid and strong. And in the final analysis, we will all physically fail. But with the
Psalm 16
author's attitude, we can stay strong in faith.